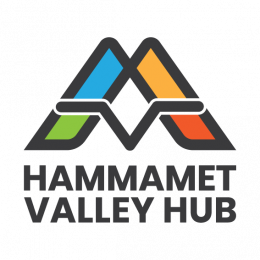 Hammamet Valley Hub
C'est le lieu de coworking adapté aux besoins des jeunes entrepreneurs, étudiants, chercheurs, freelancers, société civile, nomades digitaux et ++. Plus besoin de louer tout un espace! Avec HVH, le digital nomade peut réserver un nombre de bureaux ou de postes, en espace partagé ou isolé pour le temps nécessaire, dans un espace hautement équipé, agréable avec des services et des commodités adaptés. HVH est également le lieu de rencontre, d'échange et de partage d'expériences professionnelles par excellence entre les investisseurs et les jeunes entrepreneurs. À travers l'expertise et le réseau de ses actionnaires et partenaires prévoit d'assurer, via ses programmes d'incubation, un accompagnement ciblé pour les graines d'entrepreneurs et les startupers. HVH veut faire connaître Hammamet comme pépinière digitale attractive grâce à sa qualité de vie et à son écosystème orienté tourisme, entertainment culturel et artistique. c'est également un centre de formation pour renforcer de leurs compétences (skills) et mise en contact avec les bailleurs de fonds et les structures de financement.
(Updated on 28/09/2023)
In short

Presentation

Characteristics

Contact us
In short
Profile
Structure d'appui (Incubation, accélération)
Legal status
Etablissement privé
Characteristics
Activities

Proposed services
Centre d'incubation des startups et espace de travail ouvert de 7h à 18h et H24 pour les abonnés
Appui aux organisations de soutien aux entrepreneurs
Contact us
Location
Avenue de la République en face du marché municipal, 8050 Hammamet, Tunisie
Hammamet
Tunisia
Contact
Direct contact details are reserved for members of the Hub.
Avenue de la République en face du marché municipal, 8050 Hammamet, Tunisie